One of the first things a new chess player must learn is how to finish off the checkmate when you have won the game. Often this boils down to one of the basic checkmates: King and Queen v. King, or King and Rook v. Rook. I previously gave some rules about how to checkmate with King and Queen against King, and you might want to review that if you're unsure how to finish that mate.
This article is about how to finish the mate with King and Rook against King. This mate is slightly more difficult than the one with the Queen, but relatively easy once you see the method and understand the concepts.
I will have three posts about this checkmate: the first shows the checkmate patterns with Rook and King against King, the second has rules and tips for mating with a King and Rook against King, and the third will show a 15-move checkmate from a difficult starting position to the final checkmate.
The checkmate patterns
There are three, and only three, patterns for checkmating with King and Rook v. King. The first pattern is the checkmate on the side of the board. This checkmate can occur on any edge of the board on any square that is not a corner square. The Kings stand opposite each other and the White Rook checks the Black King along the side.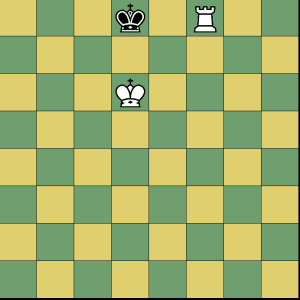 In the diagram above, the Rook gives check along the rank, and could be anywhere on that rank except c8 or e8. (If the Rook were on c8 or e8, the Black King could get out of check by capturing the Rook.)
The second and third patterns occur with the Black King in the corner. In this next one, the Black King is in the corner with the White King a Knight's-move away and the White Rook checking from the side. Again, the White Rook can be anywhere along the 8th rank, provided he's not right next to the Black King on b8.
The third pattern is really just a variation of the first and second patterns; the Black King is in the corner and the White King stands directly opposite the Black King.
If you know these patterns, you will have a goal to reach for your King and Rook v. King checkmate. The video has examples of how you might reach these positions, and my next post will give rules for reaching these checkmate positions.